Aloha!
Since we were temporarily closed for couple of months BUT we are finally back at Monsarrat!!!
Now, we are having a new menu for take out!!
Poke Bowl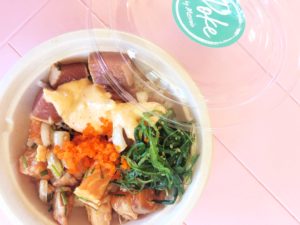 Mini $9.98 (One choice of Poke)
Regular $12.98 (Two choices of Poke)
We have two size of Poke bowl. You can choose from seven kinds of Poke with our original sauce for each one.
-Ahi (Low fish)
-Salmon (Low Fish)
-Ahi Tataki (Surface cooked)
-Salmon Tataki (Surface cooked)
-Mix (Low fish/ Ahi,Salmon,Hamachi)
-Tako
-Shrimp
We are delivering local fresh fish everyday!
-Sauce
Original Shoyu / Ginger / Garlic / Spicy Shoyu / Lemon Garlic Salt /
Creamy Spicy Mayo / Creamy Wasabi Mayo
-How to oder Poke Bowl?
STEP1: Pick your size! (Mini or Regular)
STEP2: Pick your base! (Sushi Rice, Blown Rice or Salad)
STEP3: Pick your Poke! (Mini: one choice / Regular: two choices)
*We also have Ala Carte Poke! (Half LB $11.98 / 1 LB $23.50)
Fried Rice & Others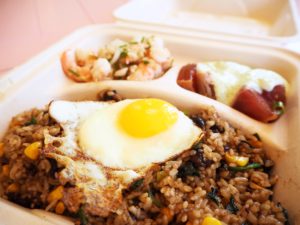 -Fried Rice & Poke Combo $17.00 (Comes with two choices of Poke)*Change to Kimchee Fried Rice +$1.00
-Morey's Fried Rice $10.00
-Kimchee Fried Rice $11.00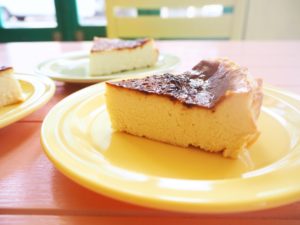 -Morey's Cheesecake $3.50
*Only weekend menu
Stop by our store and try our new menu:)
Do you use Instagram? >>> Please Follow us!
Kamaaina? >>> Yes! We have discount. (Don't forget your ID please)
Cafe Morey's
Addres: 3106 Monsarrat Avenue Honolulu, HI 96815
Phone: (808)200-1995 (Phone oder available)
Open hours:  11:00am – 6:00pm Everyday
Instagram: https://www.instagram.com/cafemoreys/
Mahalo❤︎